Can you believe July is almost over?  Where in the world has summer gone? Of course, I'm sitting here in 90-degree weather with no break in the weather coming soon so no doubt we are still in the very thick of summer.
I have really enjoyed this summer.  It has been very laid back but it has been perfect that way!.
Here are some of the books I'm reading right now:
THIS POST MAY CONTAIN AFFILIATE LINKS. PLEASE READ MY DISCLOSURE FOR MORE INFO.
4 Books I am Currently Reading: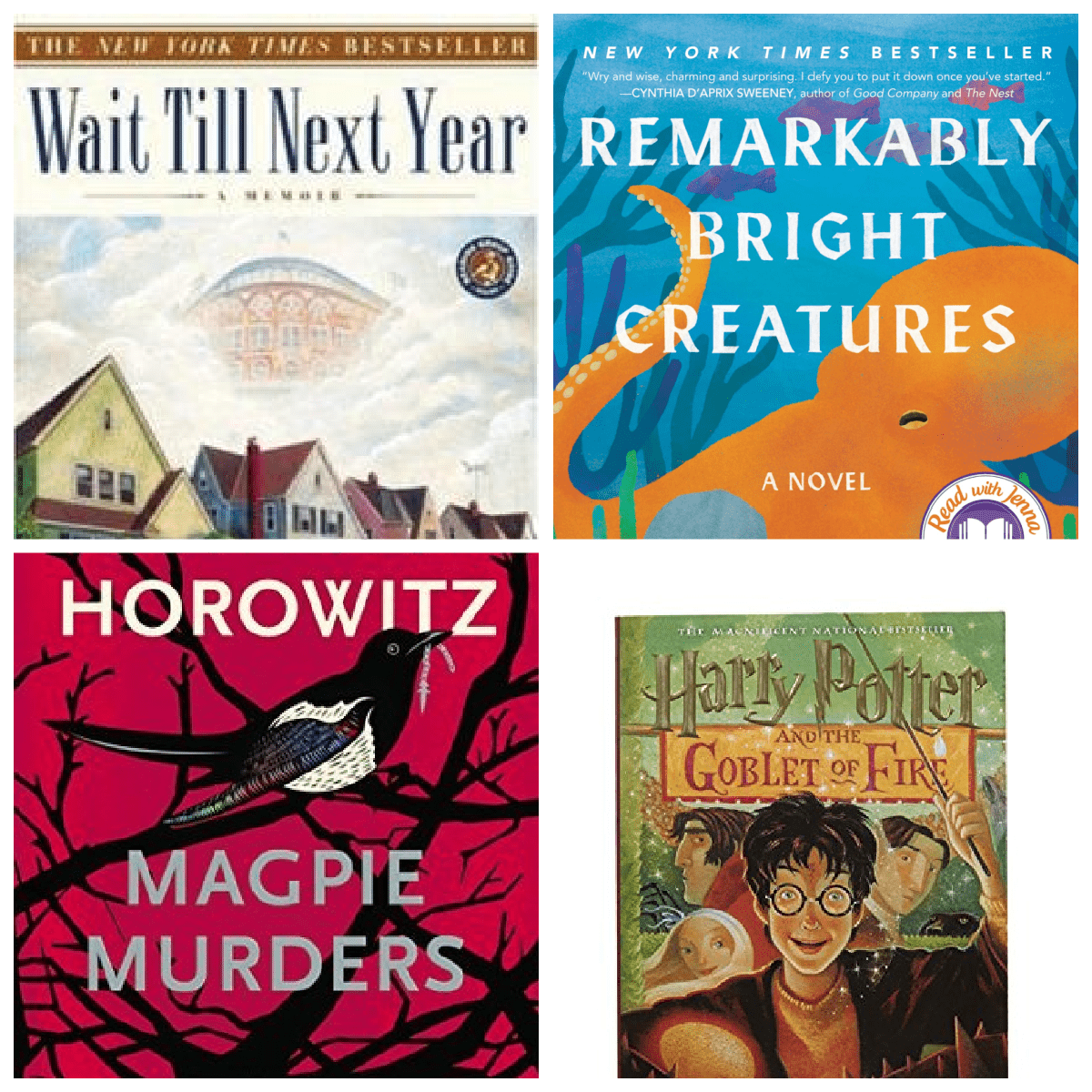 Harry Potter and the Goblet of Fire by JK Rowling
I have a personal challenge this year and it's to get through the Harry Potter Series.  I read some here and there with the kids growing up but have never read the whole series.  I just finished this one a couple of days ago.  It has been my least favorite so far.  I felt it started very slow and the world cup thing lasted way too long but I have to say, the longer the book went the better it got and it was by far my favorite battle scene.  So all and all I was still pleased.
Magpie Murders by Anthony Horowitz
My husband and I always enjoy an Audible book together and mystery is our genre of choice together.  I'm so into this book.  If you are familiar with Anothony Horowitz you know he does mystery well.  He is the writer of some of the Midsomer Murder Mysteries and Foyles War on BBC.  A fun fact, in an early episode of Midsomer Murders he places the book Magpie Murders in one of the scenes and it's before the book was actually written.  If you watch the show you will have to see if you can find it!  If you love murder mysteries this is a good one.
Remarkable Creatures by Shelby van Pelt
This was a Jenna Bush Hager bookclub pick a couple of months ago and it has raving reviews.  It is about family, loss, and an Octopus.  I wasn't sure I could get into a story about an Octopus that talks to you but I did!  It is delightful and I find it hard to put down.  The book is taking place in the summer and of course, the sea animals remind me of summer so it's the perfect summer read in my opinion.  If you read it I would love to know what you think!
Wait Till Next Year: A Memoir by Doris Kearns Goodwin
What better summer read than a book about baseball?  I love to always have non-fiction on my reading list and this is great so far.  Doris Kearns Goodwin shares her love of baseball in the '50s.  Although the book is a lot about the love her dad and she share about the Dodgers she also talks about growing up with a mom with a chronic illness and the neighborhoods in New York in the 50s  and how they bonded as a community.  She even shares about her Catholic faith and her deep friendships.  I'm really enjoying hearing about her life and the history of that time!
What are you reading right now? I would love to hear!