I'm blessed to live in a place where I get to enjoy all four seasons to the fullest. I love when a new season starts Fall is almost here!  Do you love fall as much as I do? It is such a beautiful season.
There is just something wonderful about the coziness of fall and what is the perfect way to get cozy?
To read of course!
One of my favorite times was the fall season at the library, I would put all of my fall picture books I loved to read to the kids on hold and we would get out our cozy blankets for some serious reading! We had so many favorite books it was hard to know where to start.
I have put together that list and added some more so you and your children or grandchildren can enjoy them!
I have the list below and if you want a library checklist to take to the library with you, sign up in the box below to sign up for my email list and the list will come straight to your inbox.
THIS POST MAY CONTAIN AFFILIATE LINKS. PLEASE READ MY DISCLOSURE FOR MORE INFO.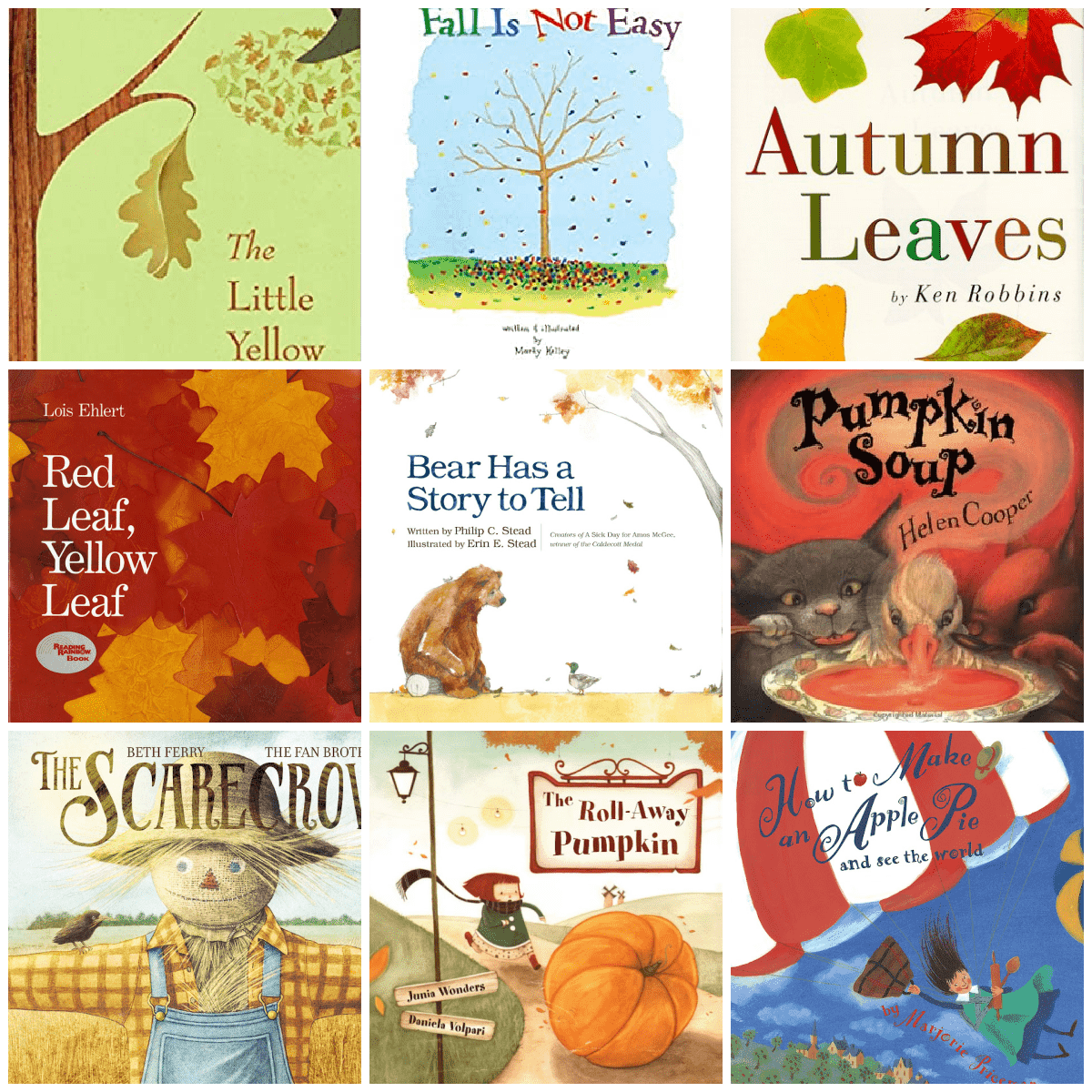 Fall Themed Picture Books
What is better than a book about falling leaves? A great book on the scientific reason leaves fall and change color with colorful illustrations and suggested activities
This book teaches kids about thirteen different kinds of leaves in North America and how to look at and compare the leaves of autumn. A great way to learn all about the fall season.
This is a funny book and children laugh every time it's read. This book teaches kids never to give up!  A family favorite!
This is a story for anyone who has ever been afraid of facing the unknown—and a celebration of the friends who help us take the leap. This book has passages that have been read at many weddings
We loved reading this when the kids were young.  Not only are the illustrations beautiful but it is very educational with a special glossary that explains how roots absorb nutrients, what photosynthesis is, how sap circulates, how to make a bird treat, and other facts about trees. Makes you want to check out nature all around you.
In this funny and encouraging picture book, best-selling author Stef Wade (A Place for Pluto) tells an engaging story and deftly addresses social and emotional struggles many kids encounter each day…feeling anxious, wanting to be perfect, facing fears, etc.
Another fall-themed book.  This one also makes a wonderful Thanksgiving book.  All the creatures gather to collect food and shelter for the winter and people gather together to celebrate their blessings with family and friends. This is peaceful and relaxing and has beautiful illustrations.
Wander down the forest path to learn how every tree, flower, plant, and animal connect to one another in spiraling circles of life. An acorn is just the beginning.
This one is special to me because my oldest son now lives in the state of Oregon.  When Papa decides to pull up roots and move from Iowa to Oregon, he can't bear to leave his precious apple trees behind. Or his peaches, plums, grapes, cherries, and pears. Oh, and he takes his family along too. The journey won't be easy but it will be worth it.
A great book for young children with beautiful fall pictures to find.
Join a young girl as she takes a walk through the forest and town, greeting all the signs of the changing seasons. In a series of conversations with every flower and creature and gust of wind, she says goodbye to summer and welcomes autumn.
When a large pumpkin gets away from its young owner, Marla, an amusing and lighthearted pursuit ensues. As it rolls down country roads, through a farm's haystacks, past a milkman and his cart, over a stone bridge, through a city's bistro, and past a butcher shop, readers will enjoy as each subsequent person joins the young girl's chase after the runaway, rollaway pumpkin, making for a silly procession that gets even sillier when the group encounters a marching parade. A pleasing ending has the ever-growing group enjoying a cauldron of pumpkin soup. Stunning illustrations.
Caldecott Medal Winner- This is such a wonderful classic and one my kids loved!  Such a wonderful story about where so many things come from.   This is an inspiring way of self-sustained living.  The illustrations are so beautiful and it's such a sweet story about hard work and simple living.
I have a special place in my heart for Johnny Appleseed and the apple tree.  He was a childhood favorite and I have such wonderful memories of reading this one when I was alone.  I still remember the pictures in the old copy I had. There are now several stories and poetry done about Johnny Appleseed, this one is delightful.
The Author of Goodnight Moon writes a book about the Little Scarecrow Boy and it is just wonderful.
This treasured picture book tells the tale of a little scarecrow boy and the lessons he learns from his scarecrow father about the world—until he decides to test his knowledge and himself.
This tender and funny story celebrates the tradition of passing knowledge from one generation to the next, and the joy of reaching one's potential. Especially perfect for sharing during the Halloween season.
Deep in the woods in an old white cabin, three friends make their pumpkin soup the same way every day. The Cat slices up the pumpkin, the Squirrel stirs in the water, and the Duck tips in just enough salt. But one day the Duck wants to stir instead, and then there is a horrible squabble, and he leaves the cabin in a huff. It isn't long before the Cat and the Squirrel start to worry about him and begin a search for their friend. Rendered in pictures richly evoking autumn, Helen Cooper's delightful story will resonate with a child who has known the difficulties that come with friendship. Included at the end is a recipe for delicious pumpkin soup.
A book with the most charming and heartwarming story! Fletcher the fox has a favorite tree outside his den that he loves to visit and he doesn't understand why its leaves are falling so he tries desperately to save the tree's leaves but of course, he is unsuccessful. The day after the last leaf has fallen off the tree by quite literally blowing out of his hand as he was trying to hold it down on the branch, the first snow falls and blankets the tree with glistening icicles that Fletcher thinks are beautiful and he is no longer sad the tree has lost all of its leaves.
Count backward from 10 to one during one of the most colorful times of the year: fall. Learn about the bright, colorful leaves and the trees from which they fall: aspen, birch, maple, oak, chestnut, linden, pine, beech, dogwood, and sweet gum. Watch the animals frolicking in the crisp, autumn air as they get ready for the approaching cold winter. The "For Creative Minds" educational section includes: Plant parts, Leaves―the shape of it all, What Good are Plants?, and Match the Leaves Activity.
Looking at both the science of weather and the history of how the fall equinox has been celebrated by various cultures throughout the world, this book will inspire a new understanding of autumn and the harvest season. Shares about how the equinox is represented by many cultures around the world.
Ride the wind and drift east with Leaf Man in this autumnal classic by Caldecott Honor-winning author-illustrator Lois Ehlert, perfect for young readers returning to school in the fall.
Fall has come, the wind is gusting, and Leaf Man is on the move. Is he drifting east, over the marsh and ducks and geese? Or is he heading west, above the orchards, prairie meadows, and spotted cows?
It's fun to try to figure out where Leaf Man will head and where he will end up.
Bestselling author Beth Ferry (Stick and Stone) and the widely acclaimed Fan Brothers (The Night Gardener) present a gorgeous and poignant picture book about two unexpected friends and the special connection they share.
All the animals know not to mess with old Scarecrow. But when a small, scared crow falls from midair, Scarecrow does the strangest thing.…
He saves the tiny baby crow.
This is such a beautiful book.
What is more important than apple pie in the autumn season? An apple pie is easy to make…if the market is open. But if the market is closed, the world becomes your grocery store. This picture book takes readers around the globe to gather ingredients for a delicious apple pie.  We loved this book so much during our homeschooling years!  It is so much fun.
Rebecca Estelle has hated pumpkins ever since she was a little girl when pumpkins were often the only food her family had. When an enormous pumpkin falls off a truck and smashes in her yard, she shovels dirt over the pieces and forgets about them. But those slimy pumpkin smithereens sprout up in autumn, and Rebecca Estelle finds a sea of pumpkins in her garden.
A heartwarming classic for more than twenty years, this story shows what happens when one thrifty gardener figures out how to make other people happy with the squash she can't stomach.
Filled with colorful illustrations from a season of gardening, this is a perfect book for young gardeners and pumpkin lovers. Its wonderful lesson about helping others can be appreciated in the classroom or at home.
It was almost winter and Bear was getting sleepy.
But first, Bear had a story to tell…
Bear found his friend Mouse, but Mouse was busy gathering seeds and didn't have time to listen to a story. Then Bear saw his friend Duck, but Duck was getting ready to fly south. What about his friend Toad? He was busy looking for a warm place to sleep. By the time Bear was through helping his friends get ready for winter, would anyone still be awake to hear his story?
Join three friends on a fun leaf-finding adventure! This bouncy new version of the popular song begs to be read out loud.
There are lots of beautiful fall leaves to find! Three friends have a big adventure hiking over a mountain and through a forest to collect leaves of all kinds and colors. What will they do with all their leaves at the end of the story? Jump and play in them, of course! With easy rhyming text and fun sound effects, children will delight in this rollicking autumn story.
best fall picture books
Other posts you may enjoy:
WANT TO REMEMBER THIS? SAVE THIS BOOK LIST TO YOUR FAVORITE BOOK PINTEREST BOARD