I just love the Little Free Libraries I see in neighborhoods.  I would have loved these when I was young.  We played in neighborhoods outside so much back then and I would have visited all the ones I could have found.
How to start a Free Little Library
Have you ever wondered how The Little Libraries has come about?
(The pic below is a library in Maysville, Kentucky -a town full of history-it is where Rosemary Clooney grew up) I love how there are separate houses for each kind of book!
Little Free Library is a nonprofit organization based in St. Paul, Minnesota.
Its mission is to be a catalyst for building community, inspiring readers, and expanding book access for all through a global network of volunteer-led Little Free Libraries.
According to their website:
"Their vision is a Little Free Library in every community and a book for every reader. They believe all people are empowered when the opportunity to discover a personally relevant book to read is not limited by time, space, or privilege."  Little Libraries give a real sense of community.
(This Little Library is at the elementary school I went to growing up)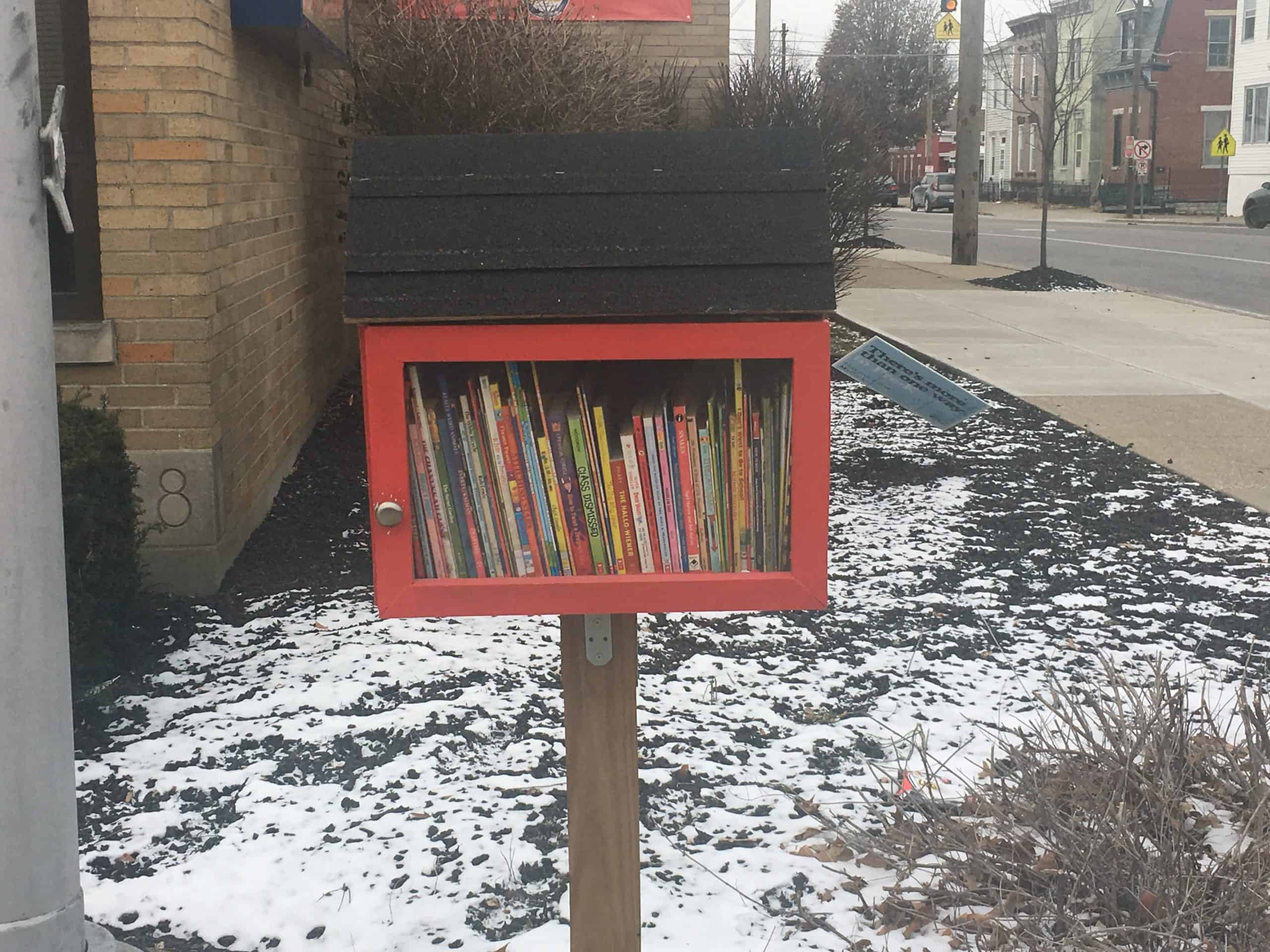 If you have a love of reading you will want to check out a little library, maybe even create one.
Little libraries come in all different sizes.
A Little Library is a box or other container you put in your front yard and fill with books.  I have also seen some in a local city park or at other public places.  For example, in my town, our firehouse has one.
You can go to the Little Free Library website and buy a kit to make your library or you can even use their Little Free Library plans and build your own.  Pinterest has some fantastic ideas and people do people get creative.  Some use old phone booths, old newspaper stands, and even suitcases.
You can register your library and then get a plaque for it if you would like.  (It is 39.00 for the plaque)  A charter sign makes you an official Little Free Library Steward and the plaque has a charter number on it.  Then it's added to the network.
The pic below is in a local park in the city of Covington, Kentucky.  This town is right across from Cincinnati, Ohio and you can see the Ohio River from the park.
You can use your own books or take book donations. Our local library even gives you a bag of books to start your library with so check with yours and see if they do the same. The whole idea is you want people to take the books. You can encourage them to drop off a book of their own if they want to. You can put adult books, kid books, picture books, or both.
I love the ones that have books for readers of all ages. Also if you do start a library of your own try hard to leave some nice books.  I have seen some that have very ragged books and old books.  There is nothing wrong with old books (I happen to love them) but you want your library to have a variety and books in good condition.  You want people to look forward to stopping by and seeing what you have.  The whole point is to bless people with good books.
(This library is in my hometown)
Having your very own library may not be a good fit for you but if you love what the Little Free Library is doing for readers and don't feel you can have your own donating always helps.  I love taking a nice book and leaving it in someone's library to bless others with.
A fun activity for the family could be to take some nice books and drive to the different locations of libraries and donate to each one.  Encourage your children to donate books they have outgrown that are in good shape.  Remind them that some other children are going to be so blessed by their gift.
If you want to find out where libraries are in your area you can go to the map locator, they even have an app you can use.
(This Little Library is on the Jersey shore in New Jersey in a neighborhood right on the shore)
Have you ever walked by a little library and wondered how it all got started? In this quick video, get to know the Little Free Library nonprofit organization and learn how that tiny library in your neighborhood is part of a worldwide book-sharing movement. Anyone can join the movement,
In Conclusion
Starting a Little Free Library would be a wonderful project to take on.  It would be so fun building it and making it your own.  I have seen some owners even have personal social media accounts on Facebook and Instagram to promote their libraries to the local area.  Some even decorate them for the holidays and make sure to have seasonal books in their boxes.  If you are looking for a fun project to take on and you are a reader this may be the perfect fit for you!
If it isn't for you right now make sure you notice the libraries around you and even donate once in a while.  Your books will bless many others who love to read!
Other posts you may enjoy:
Free little library near me
WANT TO REMEMBER THIS? SAVE THIS post TO YOUR FAVORITE BOOK PINTEREST BOARD